13 janvier 2008
20 juin 2006
She comes from Paris, the city of RACINE and MOLIERE. Few months ago she decided to go back to study and prepare a MASTER's DEGREE in Digital Communication and Marketing. This is why she first was in LONDON, to make an her internship as Marketing Assistant and also to progress in SHAKESPEARE language. This experience was so POSITIVE, that she decided to continue to live in LONDON and EXPORTED herself in this country...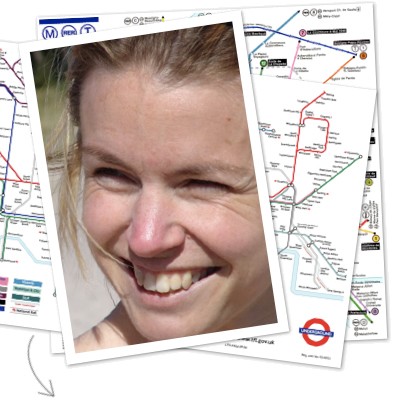 A WOMAN: After studies of Arts, she was Archaeologist specialist in wood (xylologist) during five years. Her job: extraction and analysis of the woods artefacts, and writing scientific articles in the specialized reviews. After that she made a continuous training to learn multimedias' softwares. She learned integrated media design & project management skills. It was in 2000, the golden age of The Internet.
Then she has successfully completed the role of marketing project manager over the last six years. She was responsible for full conception and project management of direct marketing, and marketing strategies, specializing in the training and promotion arenas mainly focused in the pharmaceutical and business industry. She was responsible for the formulation and the submission to the client as well as preparing detailed production schedules, timing plans and logistics for all campaigns.
She was also creating a variety of communication materials both online and offline, plus a wide variety of operational marketing campaigns, including direct mail, email, advertising (predominantly national & trade press), and as a production assistant, she could participate to the creation of TV spots broadcast on the TV Hertzian channels, plus cable and satellite channels. Her contribution was from the conception to the realization. And if you look well you could see her as actress in some of the TV spots! This is a part of her job she love a lot: "find solutions to solve problem".
She is also a creative freelancer working for a number of different organisations: publishing companies, communication & muldimedias agencies, etc. So she has now an excellent knowledge of both the creative and the production processes.
To further her career she decided, three years ago, to study for a Masters Degree in E-Communication and Marketing – she chose to specialize in e-marketing and her specialist units were Marketing Research and Consumer Behaviours. Then she found an internship in London in the Marketing department of Michael Page International. This experience was so positive, that she has decided to continue living & working in London.

She is now E-commerce manager of The Conran Shop

Highly internet literate, she has an excellent knowledge and experience of the Internet culture. she is also publishing a Blog about the different e-cultural trends in England and France (www.blogsavethequeen.co.uk).
PASSION: Her 4 great passions are Cooking, Painting, Photography and The Internet. She is currently producing a Danish cookbook - her mum is Danish and this book features many of the recepies she remembered from her childhood (see her blog: The Bløgg). She also paint pop-art canvases (see www.pop-art-design.com) as sold to the public.
COOKING: Her friends call her the fructivore, and her favorite expression is "One apple a day keep the doctor away, one apple a year keep the doctor here" To summarise, the Sofie's daily cooking is 70% South Cooking (vegetables, fish, cheese and olie oil) 20% Sushi & Sashimi and 10% "Foie Gras" & Pastries.... just to not forget the taste! Her favorites places to eat: La petite Sirène, to eat one of the best danish cook of Paris, Chez Paul et Gwena, her cantine, the most friendly atmosphere in Paris, Smiths of Smithsfields because it's a lovely English food and there is one of the great relaxed atmosphere in London, and also The Skylon, on the river for the view.
TO MOVE: With a black Kawasaki 500cc at the the moment; she is not pretty but really useful. She sleeps outsides and nobody wants this kind of motorbike. The next one should be a W650, still a Kawasaki, a copy of a british motorbike but cheaper... But her dream is to have a Triumph 800 Bonneville...HOLIDAY: Everywhere, but preferably where they don't speak French and where you can discover different food specialities. With family, direction Øster Hurup in Denmark, she went there since she was born...
MUSIC & FILMS: from The Rolling Stones to the Carmina Burana Opera. She is a radiophile and it is not rare that she buy CDs after listened it on the radio. Her favorite stations are FIP or Nova, in Paris and Smooth in London. She loves cinema and her taste are various. One of Her favorite film, the more "fleur bleue", is Out of Africa - she loved the book of Karen Blixen - but she also loves Boogie Night, Fight Club and Children of men. The last films she has seen are American Gangster and Sleuth.
Her favorite cinema are Le studio 28 decorated by Jean Cocteau, near her home, and The Cineworld cinema in King's Road...